I thought I'd do a quick post about some very disappointing products I've encountered over the last few months.
Disclaimer: I know for a fact that some people absolutely love these products. I am not saying that these are objectively bad. Just for me, they were disappointing.
First up, the Briogeo Rosarco Milk Reparative Leave-In Conditioning Spray. I had heard amazing things about this brand so I was really excited when I got it in a beauty box! I followed the directions and sprayed this generously on my short, coarse, thick, dry hair when it was damp, then blow dried on medium heat like I always do. After it was dry, my hair was actually worse than it usually is. It felt rough and limp. Not happy. I didn't bother using it again.
Now, I love Lush's body products. I do. I love their massage bars particularly. I really wanted to try Pearl, because it had the scent of Rose Jam in it, which I love (it's a shower gel). But when we tried to use it, it was basically impossible to use without getting crunchy, sharp and scratchy bits of dried sago bubbles mixed into the melted oil, which really sucked and hurt when rubbed into the skin. What the hell, Lush?! Ugh.
The MDMflow Greater Than Mascara was HIGHLY touted as being absolutely amazing. I got it in a beauty box. Before I got my Boxycharm, I saw on their instagram that a lot of people had complained that it was garbage and they posted that it had to be ~primed~ first or some dumb crap. But I thought, ok. So when I got it, with its beautiful heft, shiny golden packaging and minimalist font, I really wanted to love it. I primed it carefully as per the instructions (a lot of pumping basically). It. Was. Garbage. Utter and complete crap. I swept it onto my lashes, nothing. Again: nothing. Once more just to see. Nothing. Aaaabsolutely nothing. Not a skerrick of mascara on my lashes. For like $30, get directly fucked mate. Glad I didn't pay that much for it.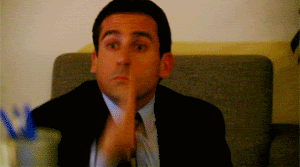 The Aussie 3 Minute Miracle hair treatment is a hilarious product to me because even though I am Australian I've never even heard of this brand. A friend recommended giving this a go for my "oh god I just changed climates and my hair is fried" issues. I followed the directions and left it on for 3+ minutes while I did other things and massaged it into my hair a bit. Rinsed it out and again it didn't feel any better than before. Nada. I gave it 3 more goes, because it comes in a huge bottle (it's really cheap too, if it works for you I'm jealous!) and I had nothing to lose. Still nothing. But this one is one I know works for a lot of people so it might just be that my hair is super fucked, you know? Anyway.

(I know I've used this gif before but Jebediah Atkinson is my spirit animal)
The Yes to Grapefruits wipes were one that Lily Pebbles or Fleur deForce or some other British beauty bloggers had in their favorites. I was looking for a way to not wet my face in the morning because I'm super lazy so I thought I'd use wipes to skip the cleansing process. Ummmm yeah look guys, this one's on me. I think these wipes are actually quite good at what they do: they're brightening and rejuvenating but the problem is that I'm quite sensitive and these are full of alcohol, peppermint oil and other irritants. If you have not sensitive, dull, lifeless skin then I would recommend giving these a go. But they broke me out to the max because I AM sensitive and these really were the catalyst for me to start figuring out which products were irritating me. So yeah, sorry.
The Hourglass primer serum made my skin feel dry and crunchy and weird. I thought it was meant to be hydrating? It also had a really strong scent which puts me off. I only had a little sample of it thankfully. Important note: the Hourglass Mineral Veil primer is WONDERFUL and if I could afford it I'd buy the huge jumbo size of it. Just this one isn't that great.
The Sephora lip ink was another sample thank god because even though it read like it would be moisturizing and pigmented it was neither and nothing has ever dried out my lips as fast as this did. Straight in the bin.
I did a post about the Rimmel ScandalEyes eyeshadow stick and how much I disliked it so I won't go into it. Cream stick eyeshadows just don't seem to like me – well drugstore ones anyway.
The MICA beauty cosmetics gel liner had so. much. promise. It went on super pigmented, super opaque and so creamy. It was glorious. I played so happily with it. But it smudged, smeared, stamped on my upper eyelid and just did not dry at all. It was bad. And I was so sad. I wanted to love it, but this was the worst gel liner I've ever come across, ever. The end.
I would love to know if you guys have ever used any of these and if so, what you thought!
Love++
F&V